ceerigaabo.COM
Africans who fought for British army paid less than white soldiers
- Written by ibro
UK(CRN) February 16, 2019   More than half a million black African soldiers who fought in the British armyduring the second world war were paid up to three times less than their white counterparts, a newly unearthed document has revealed, prompting calls for an investigation and the government to compensate surviving veterans.
The document, buried in Britain's national archives, reveals how the government systematically discriminated against African soldiers, paying white personnel – even those living in African colonies and serving alongside African soldiers in British colonial units – far more than their black counterparts.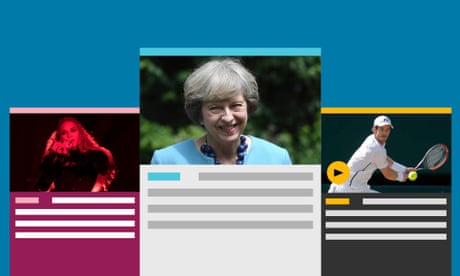 Read more
The international development secretary, Penny Mordaunt, acknowledged that inequalities existed in the past.
Labour MPs are calling for a government inquiry into the matter. On Wednesday, Wayne David, the shadow defence minister, demanded an immediate official investigation: "The defence secretary ought to make an announcement to the House of Commons and put on the record that this was wrong and that he'll put it right – as simple and straightforward and emphatic as that … There needs to be a full-scale government inquiry and all the information needs to be brought forward."
The document was uncovered by the makers of a documentary for Al Jazeera English's People and Power series. It reveals that Britain paid its soldiers not only according to their rank and length of service but also the colour of their skin.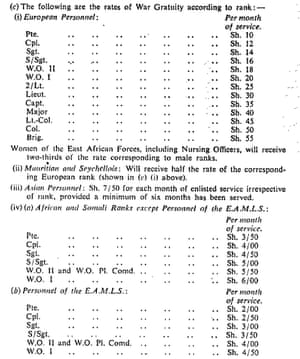 Advertisement
"The colonial regime placed a different value on African life than it did on European life," said Prof Timothy Parsons, one of the world's leading authorities on Britain's east African army, who is calling on the government to redress the injustices exacted on these soldiers by British rule. "There may be an opportunity to right some wrongs. It wouldn't cost a great deal of money per individual."
Once a soldier was demobilised, Britain paid him a lump sum known as a war gratuity, calibrating the exact amount to the racial hierarchy enshrined in its African empire.
"When I got out, they gave me nothing," said Eusebio Mbiuki, a 100-year-old veteran who lives in poverty in rural Kenya, having endured brutal combat in the jungles of Burma while fighting for Britain. "They should have known how much we had helped them. They would have given something. But that was not the case. We were abandoned just like that."
COMMENTS